DORNEY LAKE F3 HALF MARATHON
Race Date: 13th Feb 2021 -

(Closed)

Race Name: F3 Dorney Lake Winter Half

This same race will also run on these dates :

- F3 Dorney Lake Winter Half (Closed)
Link
- F3 Dorney Lake Spring Half (Open)
Link
- F3 Thames Valley Spring Half (Open)
Link
- F3 Dorney Lake Autumn Half (Open)
Link
- F3 Windsor Autumn Half (Open)
Link
- F3 Windsor Autumn Classic Half (Open)
Link
- F3 Dorney Lake Christmas Half (Open)
Link
| | |
| --- | --- |
| Race Start Time: | 10:45 |
| Running Surface: | Road |
| Route Undulation: | Flat |
| Timing Method: | Chip |
| Number Collection: | Collect On The Day |
| Race Distance Markers: | Miles |
| Entry On Day: | No |
| Race Cut Off Time: | TBC |
| Headphones Allowed: | Not Recommended |
| Race Location: | London |
| Entry Cost: | £35.00 |
| Race Status: | Closed |
Race Description:
The race takes place on the flat and smooth surfaced path around Dorney Lake near Windsor.
In the olympics of 2012 Eton Dorney, as Dorney Lake was called by London 2012, held 30 Olympics events.
The Dorney Lake course is situated in 450 acres of wonderful parkland comprising of an arboretum and conservation area. It is also just a few miles from Windsor and a short drive to west London.
Covid-19 Instructions from the Organiser
Participants will start individually at 10-15 second intervals to maintain social distancing with a recommended 15-30 minute arrival window allocated and communicated prior to the event. Participants from the same household/bubble will be permitted to start together and should arrive/start at the later of any times communicated to these participants prior to the event. Whilst running, participants should only overtake when there is enough room (at least 1m) to do so.
Route map of race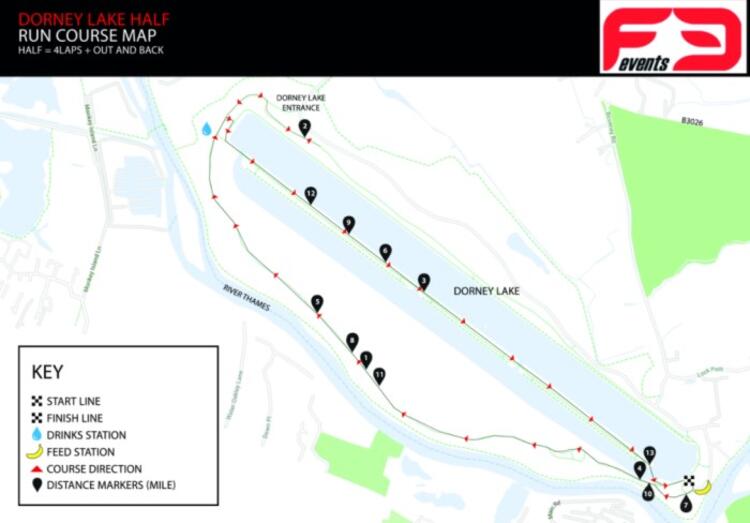 Entry Cost
Unaffiliated: £35.00 / Affiliated: £33.00
Race Information / Entry Website
Where is the race?
The race is located in Windsor, United Kingdom.
Can I wear headphones at the Dorney Lake F3 Half Marathon?
Not Recommended by the organisers.
Is the race still going ahead despite coronavirus (covid-19) concerns?
There could be changes made to the race due to covid-19, therefore please contact the race organiser to confirm this at https://www.f3events.co.uk
Maximum number of entrants:
Maximum time allowed : TBC
Contact: