WIGAN HALF MARATHON
Race Date: 21st Mar 2021 -
(TBC)
| | |
| --- | --- |
| Race Start Time: | 09:30 |
| Running Surface: | Mixed |
| Route Undulation: | Mostly Flat |
| Timing Method: | Chip |
| Number Collection: | Posted |
| Race Distance Markers: | Miles |
| Entry On Day: | Unknown |
| Race Cut Off Time: | TBC |
| Headphones Allowed: | Yes |
| Race Location: | Greater Manchester |
| Entry Cost: | £30.00 |
| Race Status: | TBC |
Race Description:
The Wigan Half Marathon is run as part of the Run Wigan Festival, which also includes a 10 mile and a 5km race.
The course is flat on roads, tarmac park paths and canal pathways for first 8 miles. After this, there is a 1.25 mile climb through Haigh Hall Country Park to Haigh Hall Hotel with a 3 mile decent towards the finish line with a small climb at mile 12.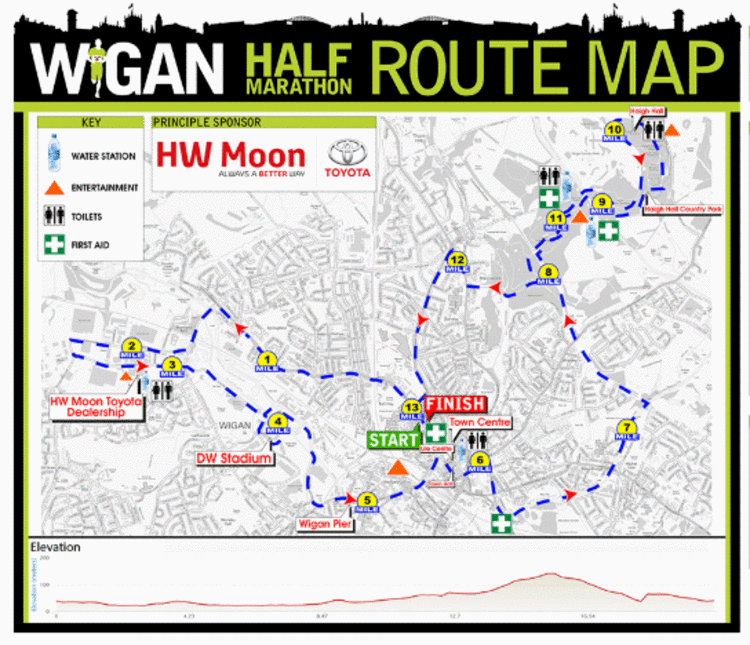 Entry Cost
Unaffiliated: £30.00 / Affiliated: £28.00
Race Information / Entry Website
http://www.wiganhalfmarathon.co.uk
Where is the race?
The race is located in Wigan, United Kingdom.
Can I wear headphones at the Wigan Half Marathon?
Yes by the organisers.
Is the race still going ahead despite coronavirus (covid-19) concerns?
There could be changes made to the race due to covid-19, therefore please contact the race organiser to confirm this at [email protected] http://www.wiganhalfmarathon.co.uk
Maximum number of entrants: 1200
Maximum time allowed : TBC
Contact: [email protected]