Sun 29th Sep 2024
Charity Places Open
Last Raced: 1st Oct 2023
Berlin
(Today 9pm)
16°C
Feels like 16°C Humidity: 87%
Wind: 1.68m/s SW
LIGHT RAIN
| | | | |
| --- | --- | --- | --- |
| Race Start Time: | 09:15 | Entry On Day: | No |
| Running Surface: | Road | Race Cut Off Time: | 6:15 hours |
| Route Undulation: | Flat | Race Town: | Berlin |
| Timing Method: | Chip | Race Location: | Germany |
| Number Collection: | Collect | Race Entry Cost: | €125.00 |
| Distance Markers: | Kms | Race Status: | Charity Places Open |
| Road Status: | Unknown | Use Headphones: | No |
| Max Number: | | Race Format: | 1 Lap |
| | |
| --- | --- |
| Race Start Time: | 09:15 |
| Entry On Day: | No |
| Running Surface: | Road |
| Race Cut Off Time: | 6:15 hours |
| Route Undulation: | Flat |
| Use Headphones: | No |
| Timing Method: | Chip |
| Race Town: | Berlin |
| Race Location: | Germany |
| Number Collection: | Collect |
| Road Status: | Unknown |
| Race Entry Cost: | €125.00 |
| Distance Markers: | Kms |
| Race Status: | Charity Places Open |
| Max Number: | |
| Race Format: | 1 Lap |
Race Pacers:
3:00
Race Pacer
3:15
Race Pacer
3:30
Race Pacer
3:45
Race Pacer
4:00
Race Pacer
4:15
Race Pacer
4:30
Race Pacer
5:00
Race Pacer
Entry Cost
Entry Fee: €125.00
Where is the race?
The race is located in Berlin, European.
Can I wear headphones at the Berlin Marathon?
No.
What is the maximum allowed time to complete the race?
The maximum time allowed is 6:15 hours
Race Entry Information
Berlin Marathon Race Entry
The website organising the Berlin Marathon is https://www.bmw-berlin-marathon.com/en/
Race Description:
The Berlin marathon is one of the six major marathons and is run on a fast and flat course. The race starts and finishes in the heart of Berlin at the Brandenburg Gate. Time measurement is done exclusively with the champion chip. The Champion Chip is a small plastic transponder that has to be fastened on your running shoe (with no metal contact) and will measure your personal race time.
A 1.5GB video download of your race in a zip file format can be purchased. It is an overview of your marathon race recorded by 20 to 25 cameras along the course of the marathon. The video download also includes the highlights and a course view of the race. The event is also broadcast on television and streamed.
The Berlin Marathon team are not able to refund any registration fees due to the high logistical and organisational effort. There are No transfers permitted. Race Insurance can be purchased.
2021 Race cost was €125. 2022 Race costs €150.
Berlin Marathon Course Route Map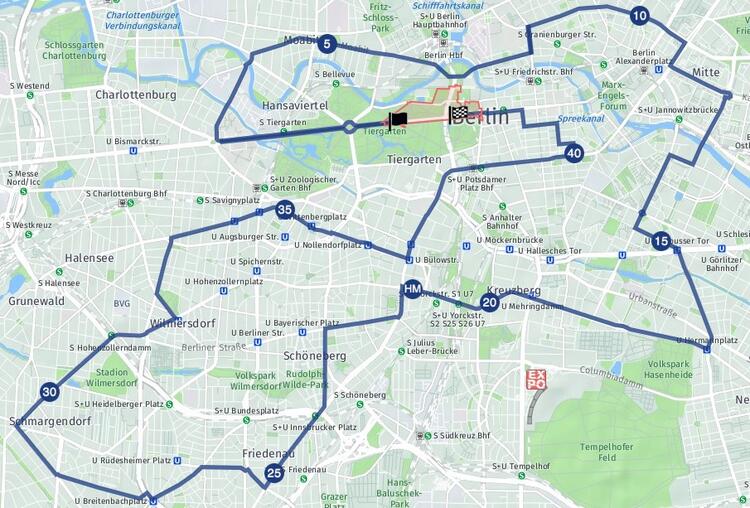 Berlin Marathon Course Elevation Profile