Race Date

Sun 14th Apr 2024
Race Status
Provisional
Boston
(Today 9am)
13°C
Feels like 13°C Humidity: 74%
Wind: 7.21m/s NE
BROKEN CLOUDS
| | | | |
| --- | --- | --- | --- |
| Race Start Time: | 09:15 | Entry On Day: | No |
| Running Surface: | Road | Race Cut Off Time: | TBC |
| Route Undulation: | Flat | Race Town: | Boston |
| Timing Method: | Chip | Race Location: | Lincolnshire |
| Number Collection: | Posted | Race Entry Cost: | £20.00 |
| Distance Markers: | Miles | Race Status: | Provisional |
| Road Status: | Unknown | Use Headphones: | Bone conduction only |
| Max Number: | 800 | Race Format: | 1 Lap |
| | |
| --- | --- |
| Race Start Time: | 09:15 |
| Entry On Day: | No |
| Running Surface: | Road |
| Race Cut Off Time: | TBC |
| Route Undulation: | Flat |
| Use Headphones: | Bone conduction only |
| Timing Method: | Chip |
| Race Town: | Boston |
| Race Location: | Lincolnshire |
| Number Collection: | Posted |
| Road Status: | Unknown |
| Race Entry Cost: | £20.00 |
| Distance Markers: | Miles |
| Race Status: | Provisional |
| Max Number: | 800 |
| Race Format: | 1 Lap |
Entry Cost
Unaffiliated: £20.00
Affiliated: £18.00
Where is the race?
The race is located in Boston, United Kingdom.
Can I wear headphones at the Boston Half Marathon?
Bone conduction only.
Is the race still going ahead?
Provisional
Change is always possible, please contact the race organiser to confirm this at: [email protected]
What is the maximum allowed time to complete the race?
The maximum time allowed is unknown, sorry.
Race Entry Information
Boston Half Marathon Race Entry
The website organising the Boston Half Marathon is https://www.bostonmarathon.co.uk/
Race Description:
The UK Boston Half Marathon is said to be one of the flattest in the country. The race usually takes place on the Sunday preceding the running of the more famous and more difficult to get entry into Boston, Massachusetts USA marathon and after the start of the full marathon. This year in 2022 it's taking place on the same day on Easter Monday.
Race Information
It is a road half marathon and completely flat all along the course. Starts at Boston Market place and ends at Boston College. There are 9 drink stations on route, also portable toilet facilities approximately every 2.5 miles. We also offer free physio advice at the finishing point. The goody bag includes a techncial T-Shirt and medal and this is all for a price of £20. The race numbers pack will be sent out after registration closes.
Can I wear headphones at the Boston Marathon?
This is the official advice 'Boston Marathon permit only Bone Conduction headsets (eg Aftershokz sport headphones). They must not cover the ears or otherwise occlude external sounds.'
What is the flattest marathon in the UK?
Surely this honour has to fall to the Boston marathon, their website claims to have only 21 feet of elevation gain and a very flat course as can be seen from this course elevation profile below. From looking at various strava data we found the average elevation gain to be more like 166 feet but this hands down beats the claim of the Manchester marathon to be the flattest marathon in our opinion. Strava shows the Manchester marathon to have an elevation of 532 feet https://www.strava.com/running-races/2020-greater-manchester-marathon
Boston Half Marathon Route Map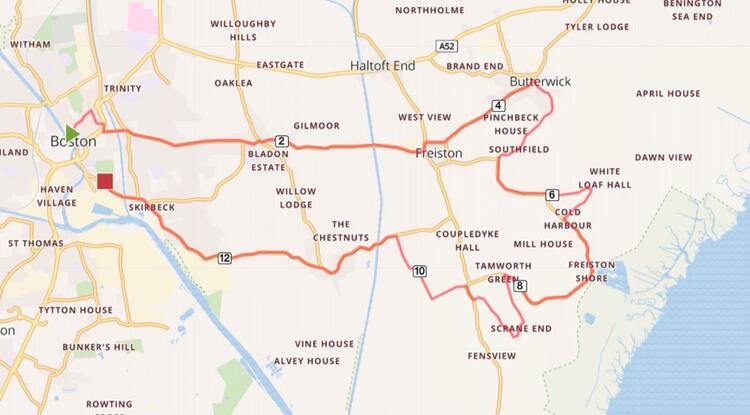 Boston Half Marathon Route Elevation