Sun 14th Jul 2024
Discontinued
Last Raced: 14th Jul 2019
Frome
(Today 12am)
10°C
Feels like 10°C Humidity: 95%
Wind: 4.05m/s S
LIGHT RAIN
| | | | |
| --- | --- | --- | --- |
| Race Start Time: | 09:00 | Entry On Day: | No |
| Running Surface: | Road | Race Cut Off Time: | 3:00 hours |
| Route Undulation: | Undulating | Race Town: | Frome |
| Timing Method: | Chip | Race Location: | Somerset |
| Number Collection: | Posted | Race Entry Cost: | £35.00 |
| Distance Markers: | Miles | Race Status: | Discontinued |
| Road Status: | Unknown | Use Headphones: | Not Recommended |
| Max Number: | 2000 | Race Format: | 1 Lap |
| | |
| --- | --- |
| Race Start Time: | 09:00 |
| Entry On Day: | No |
| Running Surface: | Road |
| Race Cut Off Time: | 3:00 hours |
| Route Undulation: | Undulating |
| Use Headphones: | Not Recommended |
| Timing Method: | Chip |
| Race Town: | Frome |
| Race Location: | Somerset |
| Number Collection: | Posted |
| Road Status: | Unknown |
| Race Entry Cost: | £35.00 |
| Distance Markers: | Miles |
| Race Status: | Discontinued |
| Max Number: | 2000 |
| Race Format: | 1 Lap |
Entry Cost
Unaffiliated: £35.00
Affiliated: £33.00
Where is the race?
The race is located in Frome, United Kingdom.
Can I wear headphones at the Frome Half Marathon?
Not Recommended.
Is the race still going ahead?
Discontinued
Change is always possible, please contact the race organiser to confirm this at: [email protected]
What is the maximum allowed time to complete the race?
The maximum time allowed is 3:00 hours
Race Entry Information
Frome Half Marathon Race Entry
The website organising the Frome Half Marathon is https://www.theraceorganiser.com
Race Description:
This race is discontinued - please see the update by the race organiser on their homepage.
The Frome Half Marathon is run on undulating, closed roads around the town. The final mile runs through the town centre of Frome with a long downhill curve that runs through to the finish line. The start and finish of the race are at an enclosed race village within Selwood Academy to ensure required COVID-safe measures can be observed. Full details of specific wave times and COVID-safe measures will be sent to every runner.
Frome Half Marathon Race Route Map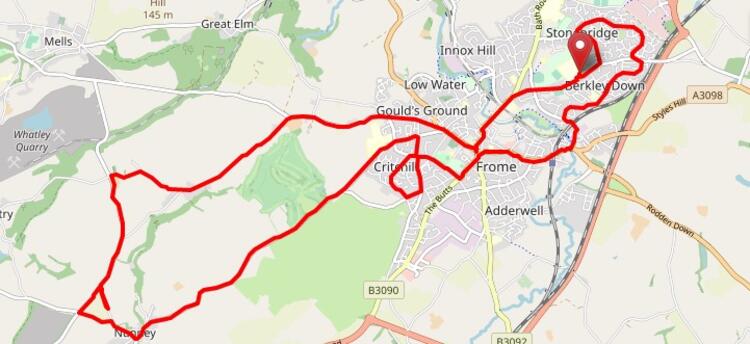 Frome Half Marathon Race Route Elevation Profile