Race Date

Sun 26th Feb 2023
Race Status
Provisional
| | | | |
| --- | --- | --- | --- |
| Race Start Time: | 10:00 | Entry On Day: | No |
| Running Surface: | Mixed | Race Cut Off Time: | TBC |
| Route Undulation: | Very Hilly | Race Town: | Widecombe-In-The-Moor |
| Timing Method: | Not Chipped | Race Location: | Devon |
| Number Collection: | None | Race Entry Cost: | £36.00 |
| Distance Markers: | | Race Status: | Provisional |
| Road Status: | Unknown | Use Headphones: | Not Recommended |
| Max Number: | | Race Format: | |
| | |
| --- | --- |
| Race Start Time: | 10:00 |
| Entry On Day: | No |
| Running Surface: | Mixed |
| Race Cut Off Time: | TBC |
| Route Undulation: | Very Hilly |
| Use Headphones: | Not Recommended |
| Timing Method: | Not Chipped |
| Race Town: | Widecombe-In-The-Moor |
| Race Location: | Devon |
| Number Collection: | None |
| Road Status: | Unknown |
| Race Entry Cost: | £36.00 |
| Distance Markers: | |
| Race Status: | Provisional |
| Max Number: | |
| Race Format: | |
Entry Cost
Unaffiliated: £36.00
Affiliated: £34.00
Where is the race?
The race is located in Widecombe-In-The-Moor, United Kingdom.
Can I wear headphones at the Hameldown Hammer Half Marathon?
Not Recommended.
Is the race still going ahead?
Provisional
Change is always possible, please contact the race organiser to confirm this at: [email protected]
What is the maximum allowed time to complete the race?
The maximum time allowed is unknown, sorry.
Race Entry Information
Hameldown Hammer Half Marathon Race Entry
The website organising the Hameldown Hammer Half Marathon is http://www.puretrail.uk/hameldown/
Race Description:
The Hameldown Hammer Half Marathon, is a challenging trail race, designed to be a serious test of endurance, physically and mentally. The Hammer has a total ascent of over 600m. It's 98% trail over a series of well defined, grassy, rocky, sometimes muddy tracks and through forestry glades. It's worth noting, there is a double ascent of the Hameldown Ridge…
The Hameldown Hammer has spectacular views of the Moor and Tors, with some of the best trail running Dartmoor has to offer.
Hammeldown Hammer Half Marathon Route Map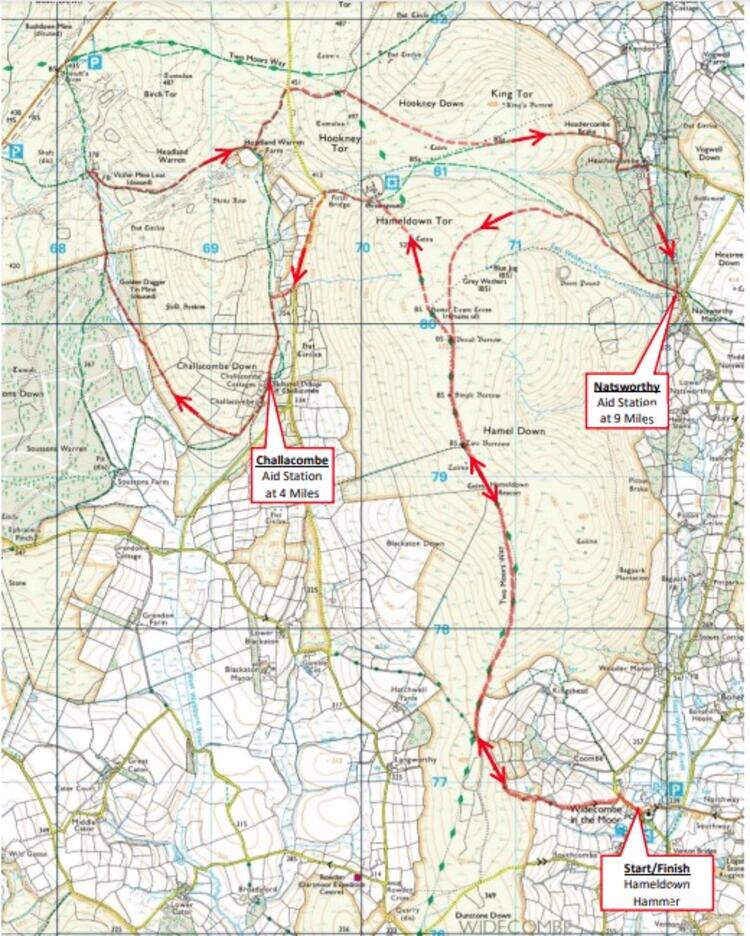 Hammeldown Hammer Half Marathon Mandatory Kit List:
Trail shoes
Backpack or waist-pack
Whistle
Survival blanket
Waterproof jacket
Hat/Headcover (cap/buff)
Mobile phone with emergency number stored (ICE)
Capacity to carry 250ml of liquid – we are cup-less now so bring a collapsable up or water bottle