Sun 8th Jun 2025
Discontinued
Last Raced: 12th Jun 2022
Hull
(Today 3am)
13°C
Feels like 12°C Humidity: 60%
Wind: 2.2m/s SW
OVERCAST CLOUDS
| | | | |
| --- | --- | --- | --- |
| Race Start Time: | 09:00 | Entry On Day: | Unknown |
| Running Surface: | Road | Race Cut Off Time: | TBC |
| Route Undulation: | Flat | Race Town: | Hull |
| Timing Method: | Chip | Race Location: | Humberside |
| Number Collection: | Posted | Race Entry Cost: | £38.00 |
| Distance Markers: | Miles | Race Status: | Discontinued |
| Road Status: | Unknown | Use Headphones: | Bone conduction only |
| Max Number: | | Race Format: | 1 Lap |
| | |
| --- | --- |
| Race Start Time: | 09:00 |
| Entry On Day: | Unknown |
| Running Surface: | Road |
| Race Cut Off Time: | TBC |
| Route Undulation: | Flat |
| Use Headphones: | Bone conduction only |
| Timing Method: | Chip |
| Race Town: | Hull |
| Race Location: | Humberside |
| Number Collection: | Posted |
| Road Status: | Unknown |
| Race Entry Cost: | £38.00 |
| Distance Markers: | Miles |
| Race Status: | Discontinued |
| Max Number: | |
| Race Format: | 1 Lap |
Entry Cost
Unaffiliated: £38.00
Affiliated: £36.00
Where is the race?
The race is located in Hull, United Kingdom.
Can I wear headphones at the Hull Half Marathon?
Bone conduction only.
What is the maximum allowed time to complete the race?
The maximum time allowed is unknown, sorry.
Race Entry Information
Hull Half Marathon Race Entry
The website organising the Hull Half Marathon is https://www.runforall.com/events/half-marathon/hull-half-marathon/
Race Description:
The Hull half marathon route starts and finishes in Alfred Gelder Street and is mostly flat as can be seen from the elevation map below. The route runs past The Deep, Humber Dock Marina, Hull City Hall and the University of Hull before returning to the finish in the city centre. Each runner will receive a goody bag, a quality technical tee-shirt and a medal.
The half marathon event is not running in 2024 - there is however a 10k taking place on June 9th 2024.
Hull Half Marathon Route Map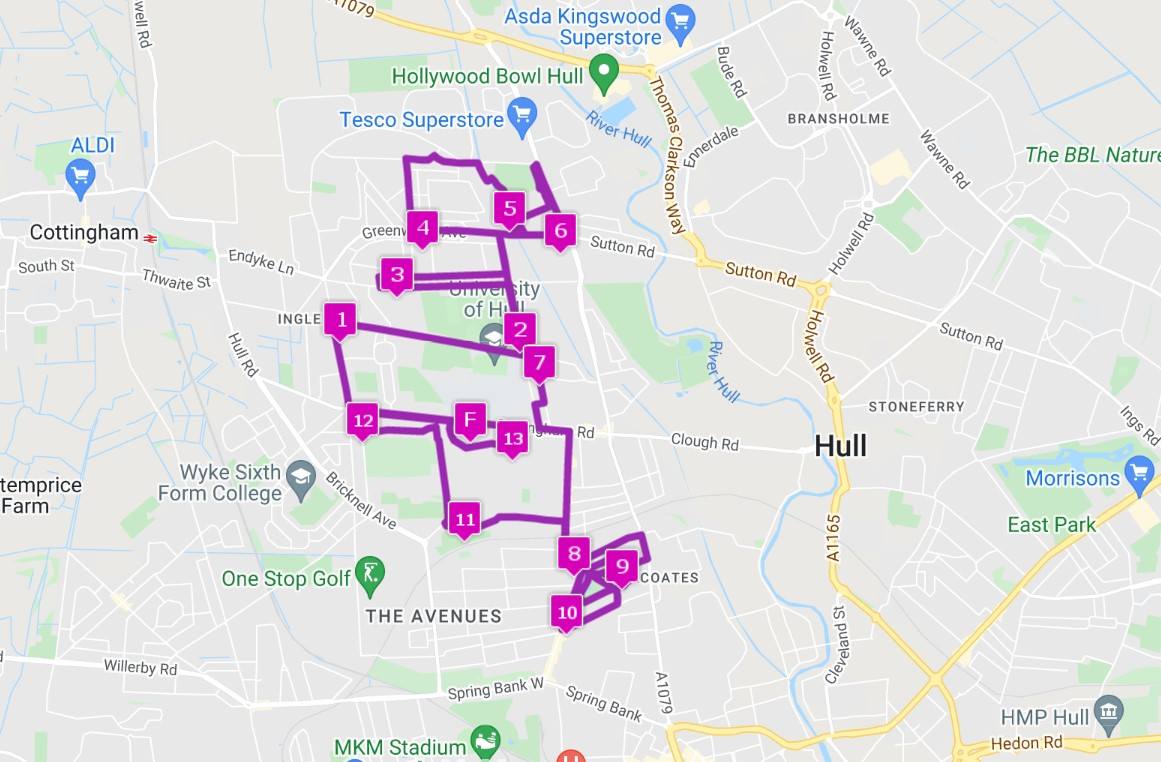 Hull Half Marathon Elevation Plan