Sun 13th Oct 2024
Entries Open
Last Raced: 30th Oct 2022
Leicester
(Today 12am)
6°C
Feels like 3°C Humidity: 90%
Wind: 3.4m/s SE
SCATTERED CLOUDS
| | | | |
| --- | --- | --- | --- |
| Race Start Time: | 09:15 | Entry On Day: | No |
| Running Surface: | Roads And Paths | Race Cut Off Time: | 3:00 hours |
| Route Undulation: | Mostly Flat | Race Town: | Leicester |
| Timing Method: | Chip | Race Location: | Leicestershire |
| Number Collection: | Posted | Race Entry Cost: | £39.00 |
| Distance Markers: | Miles | Race Status: | Entries Open |
| Road Status: | Unknown | Use Headphones: | No |
| Max Number: | | Race Format: | 1 Lap |
| | |
| --- | --- |
| Race Start Time: | 09:15 |
| Entry On Day: | No |
| Running Surface: | Roads And Paths |
| Race Cut Off Time: | 3:00 hours |
| Route Undulation: | Mostly Flat |
| Use Headphones: | No |
| Timing Method: | Chip |
| Race Town: | Leicester |
| Race Location: | Leicestershire |
| Number Collection: | Posted |
| Road Status: | Unknown |
| Race Entry Cost: | £39.00 |
| Distance Markers: | Miles |
| Race Status: | Entries Open |
| Max Number: | |
| Race Format: | 1 Lap |
Other Event Races:
Entry Cost
Unaffiliated: £39.00
Affiliated: £37.00
Where is the race?
The race is located in Leicester, United Kingdom.
Can I wear headphones at the Leicester Half Marathon?
No.
Is the race still going ahead?
Entries Open
Change is always possible, please contact the race organiser to confirm this at: [email protected]
What is the maximum allowed time to complete the race?
The maximum time allowed is 3:00 hours
Race Entry Information
Leicester Half Marathon Race Entry
The website organising the Leicester Half Marathon is https://leicestermarathon.org.uk/
Race Description:
The Run Leicester Half Marathon route starts and finishes in Victoria Park and runs through the streets of the city centre and surrounding parks. The race arena and both the start and finish are all situated in Victoria Park, just outside the city centre. After an initial downhill run for the first mile, the race runs straight through the city centre and head out on miles 2 to 6 which are all quite flat and follow Leicester's Golden Mile all the way to the top end of Watermead Park. From there the route heads back through the park, still relatively flat until you get to a short uphill and downhill around mile 8. From this point you reenter the city and follow paths roughly along the course of the canal down through Abbey Park before heading back into the city centre. Miles 9-12 are flat-ish and the races runs through Highcross and straight down High Street before eventually turning up New Walk which is the final hill to push through all the way to the finish back at Victoria Park.
Transfers are allowed up to Sunday 24th October and after that point no further transfers will be allowed. Deferrals are possible up until Sunday 3rd October and after that point no further deferrals will be allowed. Water stations are provided approximately every 3 miles, with water served in cups.
You can sign up to receive email updates at leicestermarathon.org.uk/newsletter-sign-up/
Leicester Half Marathon Course Map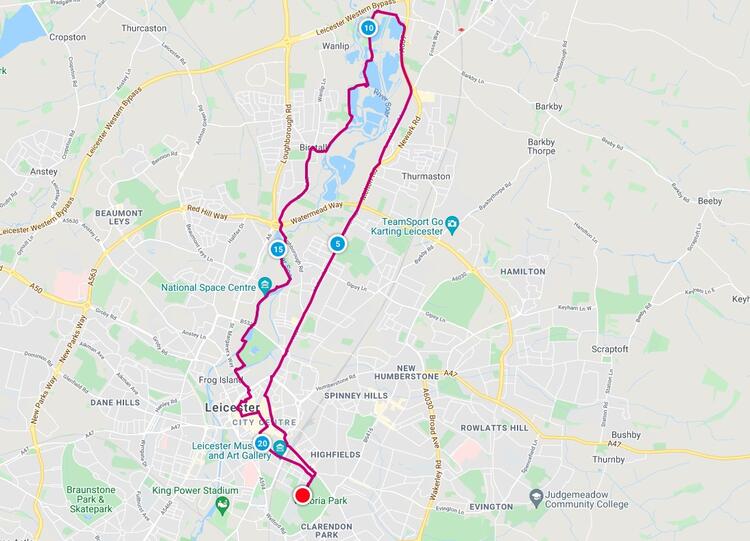 Leicester Half Marathon Elevation Profile