Race Start Time:
10:30
Running Surface:
Road
Route Undulation:
Flat
Timing Method:
Chip
Number Collection:
Posted
Distance Markers:
Miles
Max Number:
20000
Race Goodies:

Race medal available

Race t-shirt purchase available

Race photos purchase available
| | |
| --- | --- |
| Entry On Day: | No |
| Race Cut Off Time: | 6:00 hours |
| Use Headphones: | Yes |
| Race Location: | Greater Manchester |
| Race Entry Cost: | £59.50 |
| Race Status: | Race Going Ahead |
| Race Format: | 1 Lap |
| Pacers: | |
Entry Cost
Unaffiliated: £59.50
Affiliated: £57.50
Where is the race?
The race is located in Manchester, United Kingdom.
Can I wear headphones at the Manchester Marathon?
Yes.
What is the maximum allowed time to complete the race?
The maximum time allowed is 6:00 hours
Race Entry Information
Manchester Marathon Race Entry
Race Description:
The Manchester Marathon is well known for its fast, flat and friendly route. Around 20,000 people of all abilities will be at the event making it the 4th largest marathon in Europe. Runners are organised into waves based on their estimated finish time. There is the added benefit of pacers at the race, with extra pacers put in at 3:29, 3:58 and 3:59 as well as all the normal targets. There will be 8 water stations located on the route, and SiS GO Isotonic Energy Gels will be available at specific water stations across the route.
Manchester Marathon Results 2021
Manchester Marathon Course Route Map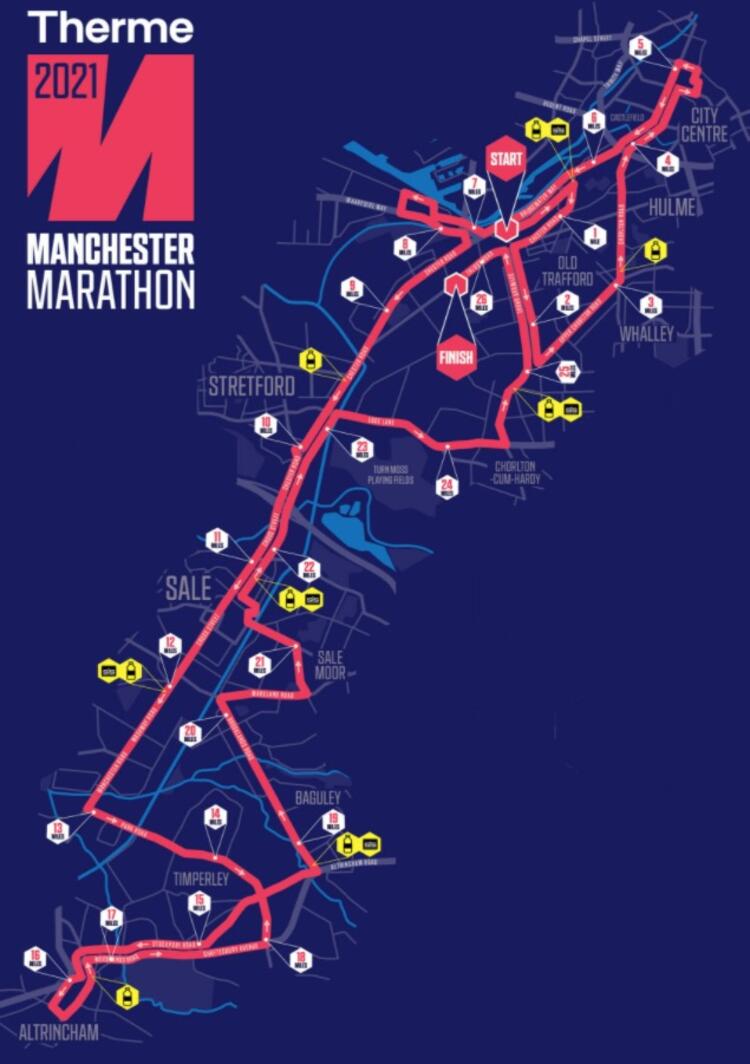 Manchester Marathon Course Elevation Profile

The Manchester marathon is possibly the flattest in the UK with a suggested elevation through the race of 54m.
Manchester Marathon Event Nutrition Stations