Sun 23rd Jun 2024
Provisional
Last Raced: 23rd Jun 2019
Bordeaux
(Today 12am)
14°C
Feels like 14°C Humidity: 92%
Wind: 2.52m/s S
SCATTERED CLOUDS
| | | | |
| --- | --- | --- | --- |
| Race Start Time: | 20:00 | Entry On Day: | No |
| Running Surface: | Roads And Paths | Race Cut Off Time: | 6:30 hours |
| Route Undulation: | Mostly Flat | Race Town: | Bordeaux |
| Timing Method: | Chip | Race Location: | Aquitaine |
| Number Collection: | Collect | Race Entry Cost: | €86.00 |
| Distance Markers: | Kms | Race Status: | Provisional |
| Road Status: | Unknown | Use Headphones: | Contact organiser |
| Max Number: | 20000 | Race Format: | |
| | |
| --- | --- |
| Race Start Time: | 20:00 |
| Entry On Day: | No |
| Running Surface: | Roads And Paths |
| Race Cut Off Time: | 6:30 hours |
| Route Undulation: | Mostly Flat |
| Use Headphones: | Contact organiser |
| Timing Method: | Chip |
| Race Town: | Bordeaux |
| Race Location: | Aquitaine |
| Number Collection: | Collect |
| Road Status: | Unknown |
| Race Entry Cost: | €86.00 |
| Distance Markers: | Kms |
| Race Status: | Provisional |
| Max Number: | 20000 |
| Race Format: | |
Entry Cost
Entry Fee: €86.00
Where is the race?
The race is located in Bordeaux, European.
Can I wear headphones at the Semi Marathon de Bordeaux Metropole?
Contact organiser.
Is the race still going ahead?
Provisional
Change is always possible, please contact the race organiser to confirm this at: [email protected]
What is the maximum allowed time to complete the race?
The maximum time allowed is 6:30 hours
Race Entry Information
Semi Marathon De Bordeaux Metropole Race Entry
The website organising the Semi Marathon De Bordeaux Metropole is https://www.marathondebordeauxmetropole.com
Race Description:
RACE IS DISCONTINUED - SITE FOR INFORMATION ONLY.
The Bordeaux marathon has which was held at night for 5 editions has been replaced by a half marathon instead. This is due to a drop in staff and resources over the years. The half marathon will still take place in the evening.
The half-marathon is concentrated only in inner Bordeaux , more precisely in the north of the city. The race route will therefore not pass through the towns of Pessac and Talence as it did in the past, which will facilitate the logistics and organisation of the event. What better way to spend your Saturday evening than taking part in the Bordeaux night half marathon.
The old marathon course used to take place in the heart of Bordeaux monuments and vineyards, a festival of running, music and great support. It was a fantastic way to view the amazing architecture and fabulous area Bordeaux has to offer.
Marathon used to cost 86Euros. Half Marathon is also available at a cost of - 55Euros. A medical certificate is required for entry.
Semi Marathon de Bordeaux Metropole Route Map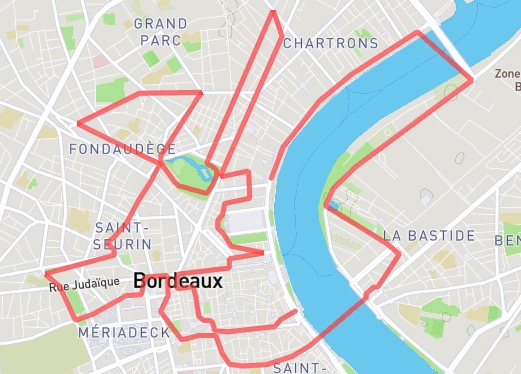 Marathon de Bordeaux Metropole Route Map