Race Date

Sat 23rd Oct 2021
Race Status
Race Going Ahead
| | |
| --- | --- |
| Race Start Time: | 08:30 |
| Running Surface: | Roads And Paths |
| Route Undulation: | Hilly |
| Timing Method: | Chip |
| Number Collection: | Collect On Day |
| Distance Markers: | Kms |
| Max Number: | |
| Race Goodies: | |
| | |
| --- | --- |
| Entry On Day: | No |
| Race Cut Off Time: | 7:00 hours |
| Use Headphones: | Unknown |
| Race Location: | Burgundy |
| Race Entry Cost: | €65.00 |
| Race Status: | Race Going Ahead |
| Race Format: | |
| Pacers: | Unknown |
Entry Cost
Entry Fee: €65.00
Where is the race?
The race is located in Chablis, European.
Can I wear headphones at the Marathon de Chablis?
Unknown.
What is the maximum allowed time to complete the race?
The maximum time allowed is 7:00 hours
Race Entry Information
Marathon De Chablis Race Entry
The website organising the Marathon De Chablis is https://marathondechablis.com/marathon/
Race Description:
The Chablis Marathon will take place on Saturday 23 October 2021 in the vineyards north of Burgundy.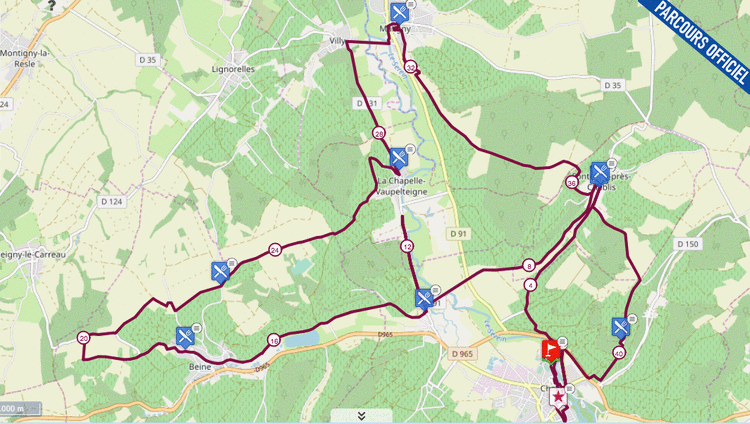 The event will be open to everyone as several events will be happening on the same day: Marathon (42.195 km, officially measured ), Half Marathon (21.1 km, officially measured), Trail (13.2 km), Hiking/Walking, and Kid's Races.

This Oeno-Sportive event will be above all lots of fun, with costumes being encouraged, music groups and tastings along the route of all of the different courses.

The Chablis Marathon is organized in parallel with the Chablis Wine Festival, a major event of the year for the region, highlighting the discovery and tasting of Chablis appellations .

Collection of race numbers is Friday and Saturday

Medical Certificate Required
UNE AVENTURE AU CŒUR DU VIGNOBLE
Venez découvrir les paysages chablisiens, et vivez une réelle aventure au cœur de cette appellation renommée ! Ce marathon, mesuré officiellement, vous emmènera au milieu des vignes dans une ambiance festive.
Après un départ où vous traverserez le village de Chablis, vous traverserez les grands crus et rejoindrez ensuite Poinchy (lieu du 2nd ravitaillement), puis attaquerez la première difficulté de la journée sur les hauteurs de Beines avec une montée assez longue mais pas très raide. Ensuite, vous replongerez au milieu du vignoble de Beines pour retourner à Poinchy et profiter de ce 4e ravitaillement à mi-parcours (20e km).
Vous continuerez en direction de La Chapelle Vaupelteigne, puis Villy sur une partie plate pendant plusieurs kilomètres, sous le regard des vignes aux alentours. Puis, vous traverserez le Serein pour rejoindre Maligny, lieu du 5e ravitaillement de la journée et après les 2 dernières difficultés du parcours :
La montée sur

Fontenay Près Chablis

,
Après le ravitaillement de

Fontenay Près Chablis

, montée sur les hauteurs de Fyé, où vous finirez votre périple au cœur des Grands Crus Chablisiens
Enfin, après cette descente et la traversée de la D965, vous traverserez Chablis en longeant La Collégiale, et arriverez sur le Secteur du Patis, où sera jugé l'arrivée du Marathon de Chablis !