Race Date

Sun 10th Oct 2021
Race Status
Race Going Ahead
Race Start Time:
09:00
Running Surface:
Road
Route Undulation:
Mostly Flat
Timing Method:
Chip
Number Collection:
Posted
Distance Markers:
Miles
Max Number:
3000
Race Goodies:

Race medal available

Free race t-shirt

Free race photos
| | |
| --- | --- |
| Entry On Day: | Yes |
| Race Cut Off Time: | 2:45 hours |
| Use Headphones: | Bone conduction only |
| Race Location: | Shropshire |
| Race Entry Cost: | £30.00 |
| Race Status: | Race Going Ahead |
| Race Format: | 1 Lap |
| Pacers: | |
Entry Cost
Unaffiliated: £30.00
Affiliated: £28.00
Where is the race?
The race is located in Shrewsbury, United Kingdom.
Can I wear headphones at the Shrewsbury Half Marathon?
Bone conduction only.
Is the race still going ahead?
Race Going Ahead
Change is always possible, please contact the race organiser to confirm this at: [email protected]
What is the maximum allowed time to complete the race?
The maximum time allowed is 2:45 hours
Race Entry Information
Shrewsbury Half Marathon Race Entry
The website organising the Shrewsbury Half Marathon is https://www.ukrunchat.co.uk/shrewsbury-half-marathon-2021/
Race Description:
The race begins and ends at Shropshire County Show ground and the route takes in both the medieval town centre of Shrewsbury and some of Shropshire's beautiful countryside. Runners will race along the historical streets of Mardol Head, Milk Street, Wyle Cop, Dog Pole and past Grope Lane! Runners will also pass Shrewsbury Library which was formally a school attended by Shrewsbury's most famous son Charles Darwin. The second half of the race is in the Shropshire countryside before returning back to finish in the showground.
There will be pacers covering the following finish times of 1:30, 1:40, 1:45, 1:50, 1:55, 2:00, 2:05, 2:10, 2:15 and 2:30 plus two tail runners. Finishers receive race photos to download as part of their race package and a finish line treat bag.
Shrewsbury Half Marathon Race Route Map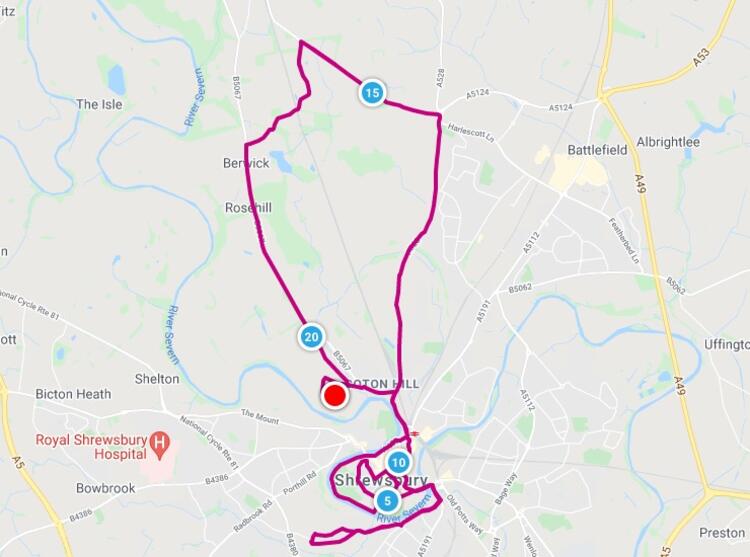 Shrewsbury Half Marathon Race Elevation Profile