Sun 17th Mar 2024
Provisional
Last Raced: 19th Mar 2023
Weymouth
(Today 12am)
12°C
Feels like 12°C Humidity: 74%
Wind: 8.3m/s SW
LIGHT RAIN
| | | | |
| --- | --- | --- | --- |
| Race Start Time: | 08:00 | Entry On Day: | Yes |
| Running Surface: | Mixed | Race Cut Off Time: | TBC |
| Route Undulation: | Flat | Race Town: | Weymouth |
| Timing Method: | Chip | Race Location: | Dorset |
| Number Collection: | Posted | Race Entry Cost: | £35.00 |
| Distance Markers: | Miles | Race Status: | Provisional |
| Road Status: | Unknown | Use Headphones: | No |
| Max Number: | 1500 | Race Format: | 1 Lap |
| | |
| --- | --- |
| Race Start Time: | 08:00 |
| Entry On Day: | Yes |
| Running Surface: | Mixed |
| Race Cut Off Time: | TBC |
| Route Undulation: | Flat |
| Use Headphones: | No |
| Timing Method: | Chip |
| Race Town: | Weymouth |
| Race Location: | Dorset |
| Number Collection: | Posted |
| Road Status: | Unknown |
| Race Entry Cost: | £35.00 |
| Distance Markers: | Miles |
| Race Status: | Provisional |
| Max Number: | 1500 |
| Race Format: | 1 Lap |
Entry Cost
Unaffiliated: £35.00
Affiliated: £33.00
Where is the race?
The race is located in Weymouth, United Kingdom.
Can I wear headphones at the Weymouth Half Marathon?
No.
Is the race still going ahead?
Provisional
Change is always possible, please contact the race organiser to confirm this at: [email protected]
What is the maximum allowed time to complete the race?
The maximum time allowed is unknown, sorry.
Race Entry Information
Weymouth Half Marathon Race Entry
The website organising the Weymouth Half Marathon is https://justracinguk.com/event/weymouth-half-marathon/
Race Description:
The Weymouth Half Marathon is an excellent pre-London Marathon preparation race.
The race follows a flat one-lap route along the beautiful Jurassic coastline through the spectator friendly town centre of Weymouth. Runners start from the famous Weymouth Clock Tower, heading out to the end of the coastal wall. They then turn round, coming back along the coast path to finish back in Weymouth.
It is a mostly flat course mainly on roads with a very small off-road section consisting of gravel track and grass. There will be some road closures and also some road crossings where traffic management will be in place with a Stop/Go system to control traffic.
Weymouth Half Marathon Route Map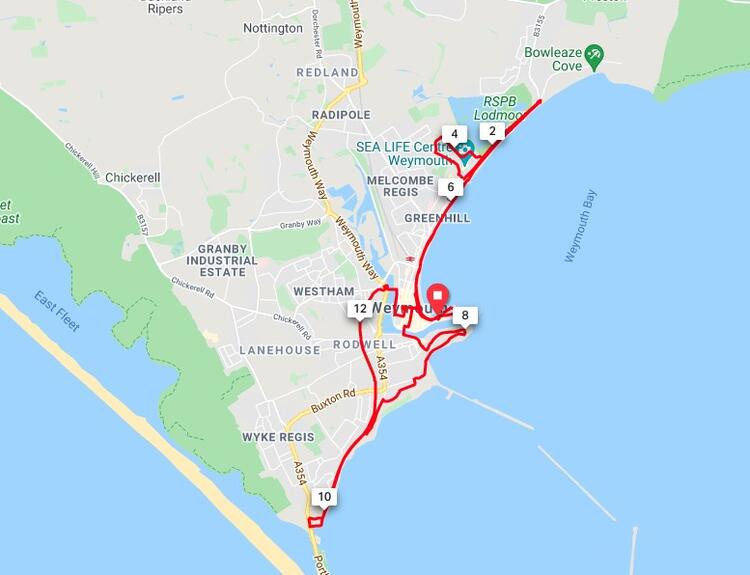 Weymouth Half Marathon Elevation Map