BRAMLEY 20 MILE - READING ROADRUNNERS EVENT
Race Date: 14th Feb 2021 -
(Cancelled)
| | |
| --- | --- |
| Race Start Time: | 10:30 |
| Running Surface: | Road |
| Route Undulation: | Flat |
| Timing Method: | Chip |
| Number Collection: | Posted |
| Race Distance Markers: | Miles |
| Entry On Day: | No |
| Race Cut Off Time: | 4:00 hours |
| Headphones Allowed: | No |
| Race Location: | Berkshire |
| Entry Cost: | £28.00 |
| Race Status: | Cancelled |
Race Description:
Described as slightly undulating but this 20 mile course is mostly flat and great for marathon preparation. There is also a 10 mile run available.
The race is run under UK Athletic rules.
Toilets and changing at race HQ. Water stations, with energy drinks on the course. Hot & cold drinks/food at race HQ.
T-shirts and race photos for sale along with a goody bag and a medal for finishers.
No headphones are permitted.
Below is map of the course the race is run on: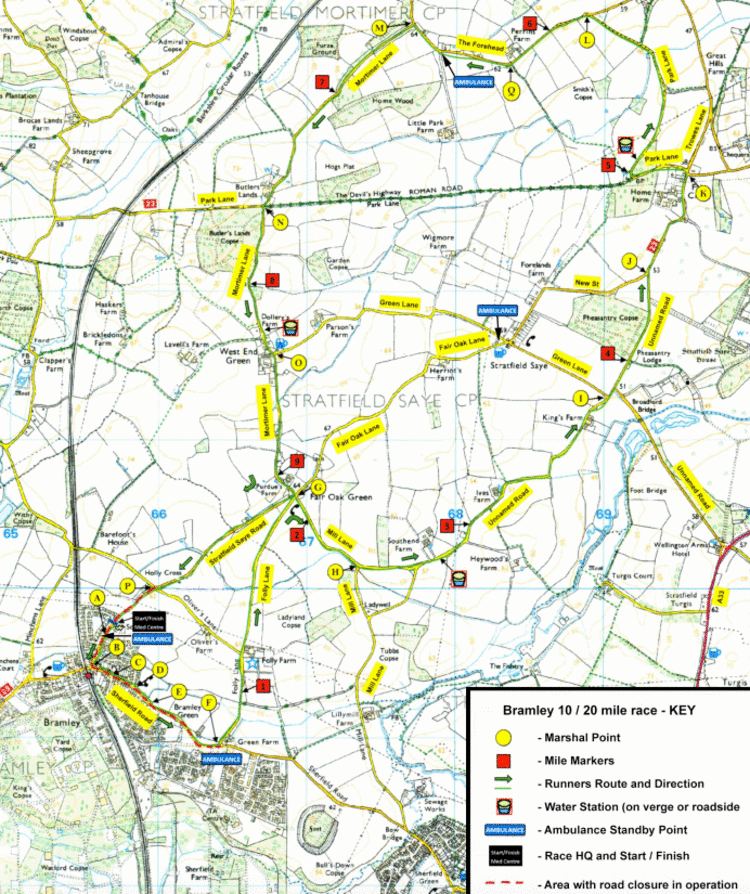 Entry Cost
Unaffiliated: £28.00 / Affiliated: £26.00
Race Information / Entry Website
http://readingroadrunners.org/races/bramley/
Where is the race?
The race is located in Reading, United Kingdom.
Can I wear headphones at the Bramley 20 Mile - Reading Roadrunners Event?
No by the organisers.
Is the race still going ahead despite coronavirus (covid-19) concerns?
There could be changes made to the race due to covid-19, therefore please contact the race organiser to confirm this at [email protected] http://readingroadrunners.org/races/bramley/
Maximum number of entrants: 1000
Maximum time allowed : 4:00 hours
Contact: [email protected]