FLEET HALF MARATHON
Race Date:
| | |
| --- | --- |
| Race Start Time: | 10:30 |
| Running Surface: | Road |
| Route Undulation: | Flat |
| Timing Method: | Chip |
| Number Collection: | - |
| Race Distance Markers: | Miles |
| Entry On Day: | No |
| Race Cut Off Time: | TBC |
| Headphones Allowed: | Bone Conduction Allowed |
| Race Location: | London |
Race Description:
The Fleet Half Marathon first took place in 1982 and is now a well established race and considered to be an ideal 'pre-London' race for anyone running the London Marathon.
The race follows a course mixing urban and rural roads, with runners starting from Reading Road North and heading anti-clockwise around a 3 mile loop. The following 10 mile loop carries on in the same direction crossing the M3 before the finish line in Calthorpe Park.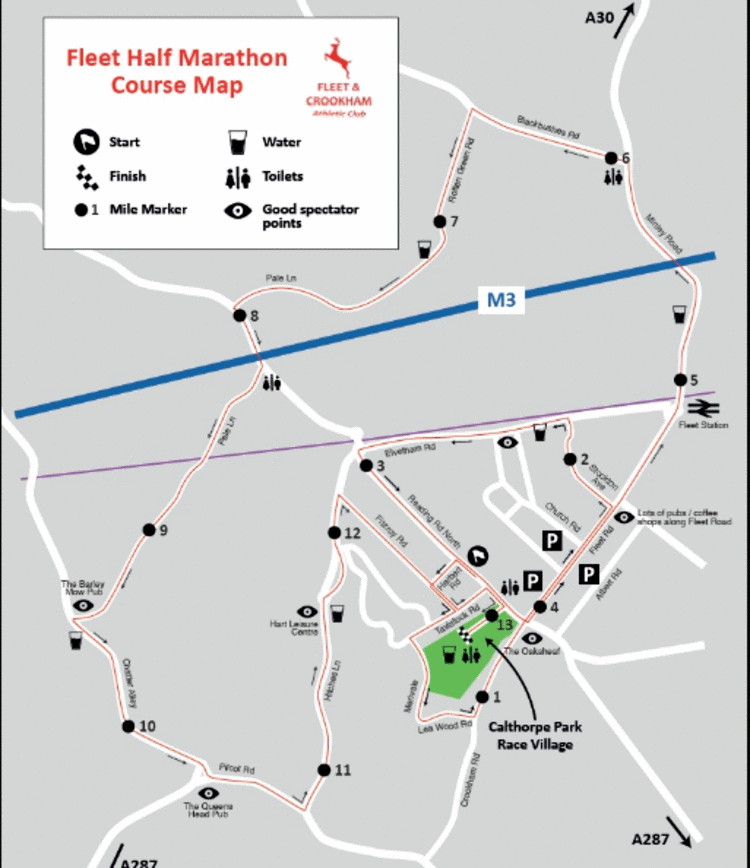 Entry Cost
Unaffiliated: £25.00
Affiliated: £23.00
Contact: [email protected]
Website: http://fleethalfmarathon.com
Maximum number of entrants: 4000
Maximum time allowed : TBC
Distance: Half Marathon
Where is the race?
The race is located in Fleet, United Kingdom.
Can I wear headphones at the Fleet Half Marathon?
Bone Conduction Allowed by the organisers.
Is the race still going ahead despite coronavirus (covid-19) concerns?
We are not certain at the moment due to Covid-19 (coronavirus), please contact the race organiser to confirm this [email protected] http://fleethalfmarathon.com
DISCLAIMER: We try to ensure the absolute accuracy of the information shown within all our pages and the provided race information. However we accept no responsibility for any errors. Please contact the actual race organisers if you need to confirm any details.