HAMPTONS MARATHON
Race Date: 2nd Oct 2021 -
(TBC)
| | |
| --- | --- |
| Race Start Time: | 08:00 |
| Running Surface: | Road |
| Route Undulation: | Flat |
| Timing Method: | Chip |
| Number Collection: | Collect On The Day |
| Race Distance Markers: | Miles |
| Entry On Day: | No |
| Race Cut Off Time: | TBC |
| Headphones Allowed: | - |
| Race Location: | NY 11968 |
| Entry Cost: | $78.00 |
| Race Status: | TBC |
Race Description:
Runners World call this race a Bucket List Must Do! With a marathon, a half marathon and a 5km run there is something for everyone.
Last year runners from 14 countries and 40 states ran the Hamptons which covers stunning terrain on Long Island's East End. Passing beautiful beaches fo Shinnecock Bay and Coopers Beach and wooded areas, through Southampton village and having views of the Atlantic Ocean the course is 'generally' flat and fast.
Course video:
https://capstoneraces.com/hamptons-marathon/course-map/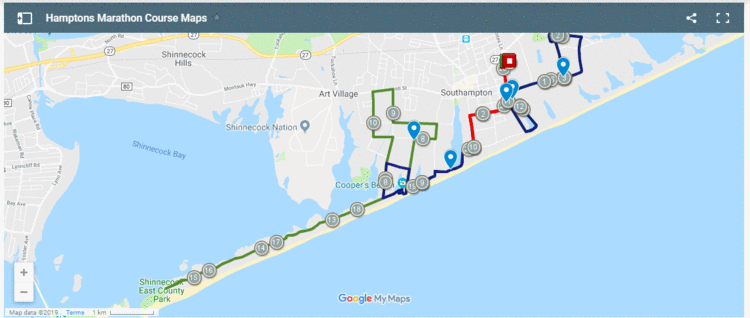 Marathon Course – Green
Half Marathon Course – Blue
5K Course – Red
Entry Cost
Entry Fee: $78.00
Race Information / Entry Website
https://capstoneraces.com/hamptons-marathon/
Where is the race?
The race is located in Southampton, USA.
Can I wear headphones at the Hamptons Marathon?
- by the organisers.
Is the race still going ahead despite coronavirus (covid-19) concerns?
There could be changes made to the race due to covid-19, therefore please contact the race organiser to confirm this at https://capstoneraces.com/hamptons-marathon/
Maximum number of entrants:
Maximum time allowed : TBC
Contact: