LIVERPOOL HALF MARATHON
Race Date: 12th Sep 2021 -
(Race Going Ahead)
| | |
| --- | --- |
| Race Start Time: | 09:00 |
| Running Surface: | Roads And Paths |
| Route Undulation: | Flat |
| Timing Method: | Chip |
| Number Collection: | Posted |
| Race Distance Markers: | Miles |
| Entry On Day: | No |
| Race Cut Off Time: | 3:00 hours |
| Headphones Allowed: | Unknown |
| Race Location: | Merseyside |
| Entry Cost: | £36.00 |
| Race Status: | Race Going Ahead |
Race Description:
The Liverpool Half Marathon is a mainly flat course made up of roads and park pathways. Course runners experience Sefton Park, run alongside cricket clubs and allotments, an old iron bridge and a lake. The course makes it's way along the waterfront promenade to the Liverpool Arena, with the last mile being past the rear of the Albert Dock, behind the Tate Liverpool and crossing the dock bridge by the Liverpool Museum on the run up to the final finish line.
Everyone who completes the course on the day will receive a medal and a technical T shirt.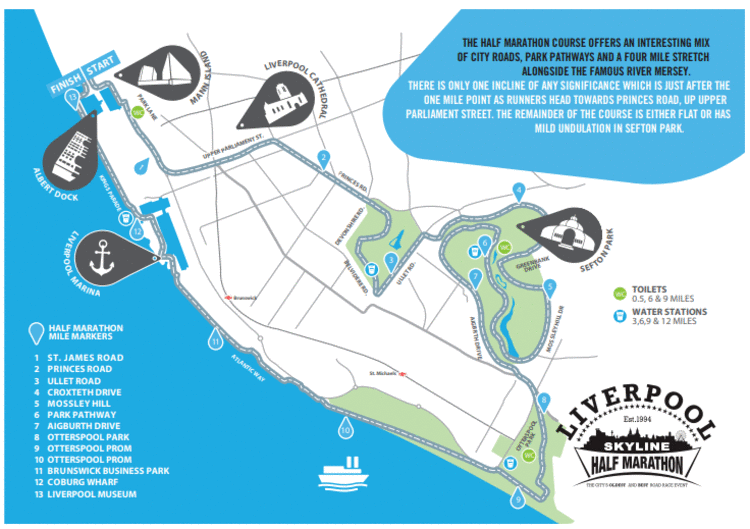 Entry Cost
Unaffiliated: £36.00 / Affiliated: £34.00
Race Information / Entry Website
https://www.btrliverpool.com/liverpool-half-marathon
Where is the race?
The race is located in Liverpool, United Kingdom.
Can I wear headphones at the Liverpool Half Marathon?
Unknown by the organisers.
Is the race still going ahead despite coronavirus (covid-19) concerns?
There could be changes made to the race due to covid-19, therefore please contact the race organiser to confirm this at [email protected] https://www.btrliverpool.com/liverpool-half-marathon
Maximum number of entrants: 6000
Maximum time allowed : 3:00 hours
Contact: [email protected]