MONT SAINT-MICHEL MARATHON
Race Date: 2nd May 2021 -
(TBC)
| | |
| --- | --- |
| Race Start Time: | TBC |
| Running Surface: | Roads And Paths |
| Route Undulation: | Flat |
| Timing Method: | Chip |
| Number Collection: | Collect On The Day |
| Race Distance Markers: | Kms |
| Entry On Day: | No |
| Race Cut Off Time: | TBC |
| Headphones Allowed: | - |
| Race Location: | Normandy |
| Entry Cost: | TBC |
| Race Status: | TBC |
Race Description:
May 2020 TBA
The running festival of the Marathon du Saint-Michel is a must if you are looking for a fast marathon time, with the course being completely flat: at the start line you can see the finish line at the Couesnom dam 42.195km away. Starting at Cancale the marathon winds its way through several villages such as Vivier-sur-Mer and Cherrueix before finishing at the foot of Mont Saint-Michel, a monumental granite islet with a 10th-century abbey standing atop it.
Regularly ranked among the 10 most beautiful marathons in the world, the Mont Saint-Michel Marathon has 5000 runners from all over France and many from overseas who visit for not only the marathon but for the beautiful scenery and area steeped in history with Mont Saint-Michel being a World Heritage Site.
A medical certificate is required as part of the entry requirements.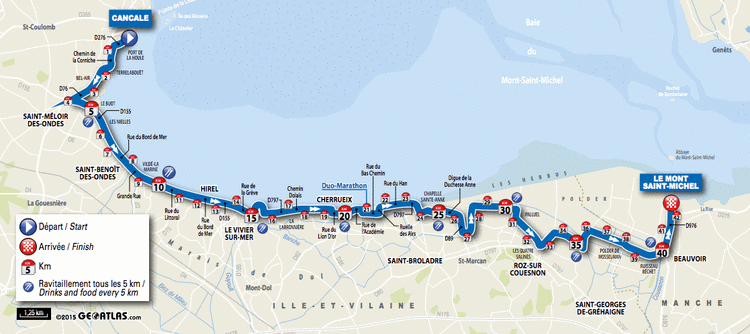 Entry Cost
Unaffiliated: TBC
Race Information / Entry Website
https://www.runinmontsaintmichel.com
Where is the race?
The race is located in Cancale, France.
Can I wear headphones at the Mont Saint-Michel Marathon?
- by the organisers.
Is the race still going ahead despite coronavirus (covid-19) concerns?
There could be changes made to the race due to covid-19, therefore please contact the race organiser to confirm this at https://www.runinmontsaintmichel.com
Maximum number of entrants: 5000
Maximum time allowed : TBC
Contact: