RAS DEWI SANT COASTAL PATH HALF
Race Date: 27th Mar 2021 -
(Full)
| | |
| --- | --- |
| Race Start Time: | 09:00 |
| Running Surface: | Mixed |
| Route Undulation: | Very Hilly |
| Timing Method: | Not Chipped |
| Number Collection: | - |
| Race Distance Markers: | |
| Entry On Day: | No |
| Race Cut Off Time: | TBC |
| Headphones Allowed: | Unknown |
| Race Location: | Pembrokeshire |
| Entry Cost: | £32.00 |
| Race Status: | Full |
Race Description:
Runners follow a one-lap undulating course starting in St.Davids and running through the city and rural roads towards Whitesands Beach. From here the route joins the coastal path for 9 miles taking your to Caerfai Bay. Then proceeding inland on bridalways and roads back to the outskirts of St.Davids. Finally ascending the 39 steps of Pebbles Hill at the Cathedral and finishing on the Cross Square.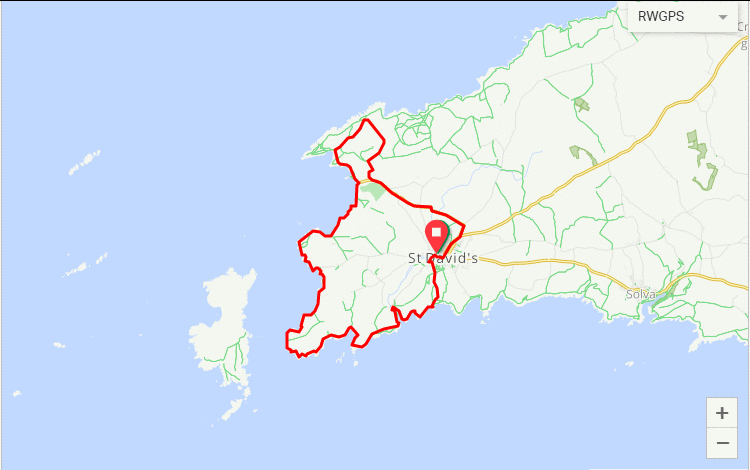 Entry Cost
Unaffiliated: £32.00 / Affiliated: £30.00
Race Information / Entry Website
https://www.muuk-adventures.com/tours/ras-dewi-sant/
Where is the race?
The race is located in St. Davids, United Kingdom.
Can I wear headphones at the Ras Dewi Sant Coastal Path Half?
Unknown by the organisers.
Is the race still going ahead despite coronavirus (covid-19) concerns?
There could be changes made to the race due to covid-19, therefore please contact the race organiser to confirm this at [email protected] https://www.muuk-adventures.com/tours/ras-dewi-sant/
Maximum number of entrants: 140
Maximum time allowed : TBC
Contact: [email protected]