ST. NEOTS HALF MARATHON
Race Date: 14th Nov 2021 -
(Cancelled)
| | |
| --- | --- |
| Race Start Time: | 10:00 |
| Running Surface: | Road |
| Route Undulation: | Flat |
| Timing Method: | Chip |
| Number Collection: | - |
| Race Distance Markers: | Miles |
| Entry On Day: | No |
| Race Cut Off Time: | 2:30 hours |
| Headphones Allowed: | No |
| Race Location: | Cambs |
| Entry Cost: | £25.00 |
| Race Status: | Cancelled |
Race Description:
St. Neots Half Marathon
The St. Neots Half Marathon is organised by Riverside Runners running club, it generally sells out very quickly, usuually within a few hours of entires being released. It being a fast course is one of the reasons for this and the course is renowned as potential for personal bests with its three mile downhill finish! 2018 saw a complete sell out of 1750 race entries within six hours of opening. This year is shaping up to be an even better race. The new and improved start and finish for recent years has worked well and will be in place again.
Entries for the 2020 race with likely open around Monday 3rd June 2020.
There will be free photographs available via their facebook page
St. Neots Half Marathon Race Route
Runners follow a mildly undulating one lap course along country roads. Runners start at Potton Road, finishing close to the start line. The final 3 miles is slightly downhill, offering the chance of a fast finish and PB.
Below is a map route of the half marthon course starting in St Neots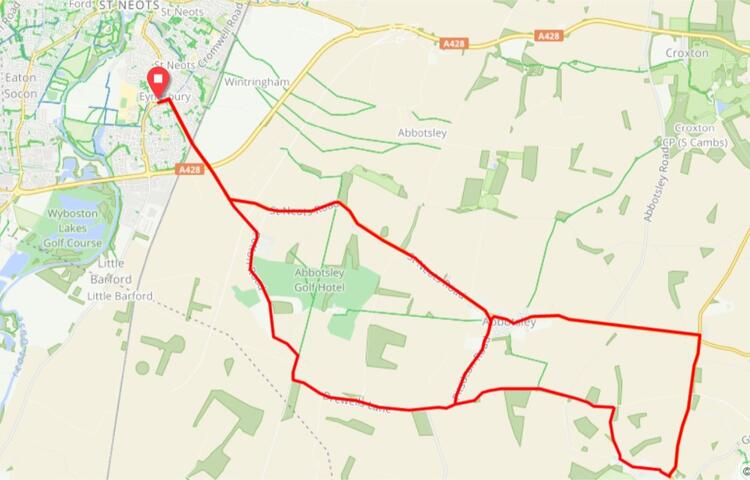 Entry Cost
Unaffiliated: £25.00 / Affiliated: £23.00
Race Information / Entry Website
https://nicetrievents.com/events/2020/st.neots-half-marathon-and-fun-run-2020.html
Where is the race?
The race is located in St Neots, United Kingdom.
Can I wear headphones at the St. Neots Half Marathon?
No by the organisers.
Is the race still going ahead despite coronavirus (covid-19) concerns?
There could be changes made to the race due to covid-19, therefore please contact the race organiser to confirm this at [email protected] https://nicetrievents.com/events/2020/st.neots-half-marathon-and-fun-run-2020.html
Maximum number of entrants: 1750
Maximum time allowed : 2:30 hours
Contact: [email protected]